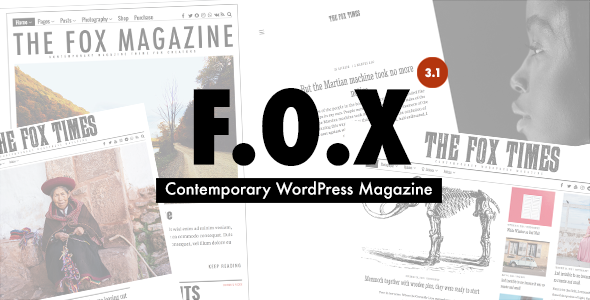 Fox 3.1.1 is out! (24.04.2019) Click here to view the Change log
Compatible with WordPress 4.9 / 5.0 / 5.1 / 5.2 and WooCommerce 3.6
HOW PEOPLE USE THE FOX?
CUSTOMER REVIEWS
It's the best I ever had in 15 years of bloggin! – a 2-year user on Themeforest
KEY FEATURES
WordPress 4.9, 5.0, 5.1, 5.2 compatible and will be compatible with future versions of WordPress.
WordPress 5.x Gutenberg Editor ready.
Predefined demos:
Fox Magazine Classic: Setup your blog/magazine/newspaper easily in minutes. Some variations of the Fox Classic Magazine:
More to come.
One-Click Import Demo: One purchased, you can go to Dashboard > Appearance > Import Demo Data to choose which demo you wanna import, then click "Import" to turn your site looking 100% same as demo.
GDPR compliant: Fox  or none of our WordPress themes or plugins collect any kind of personal data, like email, name or IP addresses.
Homepage Builder: Fox comes with a simple but efficient home page builder that allows you to build unlimited number of sections in few clicks. It's really simple & lightweight. The main blog stream can be inserted between sections of the builder. In each section, you can add advertisement code (Adsense or any of your custom ad code)
WooCommerce 3.6+ ready: Build your own shop on the blog / news / magazine site with WooCommerce compatibility. View Fox sample shop.
Responsive: The Fox looks well on all devices like iPhone, iPad, Galaxy, Pixel etc. Sliders also work well with touch and swipe gesture.
Mobile Friendly: Check Google Mobile Friendly Tester
Off-canvas mobile menu: Fox supports off-canvas menu openning on the side like Facebook or NyTimes that makes your site looking professional on mobile.
Translation Ready: Fox contains *pot file in languages directory, that allows you to translate this theme into your own language. You can use a plugin like Loco Translate or TranslatePress to translate your theme fully.
Quick Translation: Fox also has a module in Customization with fundamental words to help you translate important words on the fly.
WPML compatible: Build multilingual-ready site with WPML.
Optimized For Speed: Blazing fast loading & CSS/JS files minified.
Clean Code & Child Theme included (easy to adapt). We also create few useful hooks for developers to build a child theme so that your customization won't be lost after updating.
Retina-ready: It looks beautiful on high-resolution screens like those found on the iPhone, iPad, Kindle Fire HD, Nexus 10, and MacBook Pro with Retina Display.
Review System: The Fox comes with built-in Review System. View sample post →
SEO Friendly
Mobile friendly.
Coded in HTML5 & CSS
Code is semantic in schema.org standard: article, header, footer, heading etc.
All heading H1, H2, H3 are well-organized.
CSS, JS files are compressed to improve loading speed
Powerful Live Customization with ~ 150 OPTIONS: The Fox uses WordPress live customizer to help you setup your site in the most visual way.
Flexible width: You can adjust container width in customizer. Sidebar width can be adjusted as well.
Customize Accent Colors:  Set ANY  accent color from color picker and you can see it LIVE .
Custom Logo upload: You have option to upload both logo & retina logo. It's the same for footer logo & footer retina logo. It uses the latest beautiful uploader of WordPress.
Body Background upload: Upload your own background image and you can set background size, background position… like this example.
3 Header Layouts:
Multi-layout for Blog Stream : You can select 1 in 9 layouts:
Standard blog layout (which can be 2-column text or single-column text)
Newspaper layout
Grid 2 columns
Grid 3 columns
Grid 4 columns
Pinterest-like 2 columns (Masonry 2 columns)
Pinterest 3 columns (Masonry 3 columns)
Pinterest 4 columns (Masonry 4 columns)
List layout.
Set up layout for each category or tag, or you can set it inherit from general archive layout.
Home page Builder section layouts:
Big post with big photo: Example.
Post Slider: Example.
Post Grid 2, 3 or 4 columns
Vertical Post: Example.
Post Group Style 1: Example.
Post Group Style 2: Example.
List style
Beautiful Hero image post for single post representation, modern look & taste.
Autoload Next Post (since 2.9): Autoload the next post after scrolling to bottom of single post to keep your visitors on your site longer. It's a feature like qz.com
Post Formats support
Flexible sidebar layout: Sidebar can be left, right or disabled. You can control sidebar state for each single post / page or each category, tag on your site.
Use ANY FONT , flexible typography options.
You can customize font face for body font, heading font or navigation menu.
Select any font from Google Font list.
Upload your own font face.
Use a third-party font service, eg Typekit Font.
You can control lot of sizes like body size, menu size, heading, post title etc.
Featured Post System: Fox integrates a featured posts system that's very easy to use. To set a featured post, click to the star next to that post. From version 2.0, you can create a page that display all of featured posts. See Editors' Picks as sample page.
Widgets come with The Fox:
Facebook like box
Instagram Feed
Widget About
Widget Social links
Widget Banner/Advertisement
Widget Latest posts (that you can show posts from a specified category/tag)
Widget Video/Soundcloud
Most-view Posts
Best Rated Posts (review system)
Author list (newly added since v2.0)
Pinterest (newly added since v2.0)
WP Mailchimp Subscribe / Newsletter Form supported.
Ad System
Support banner or ad code (Adsense or any custom ad code)
Various spots for your ad: header, footer sidebars, normal sidebar, between sections, single post.
Post View Counter : Fox integrates a post view counter system that allows you to keep track how many times a post have been viewed and display the most viewed posts.
Flexible Image used: You can use horizontal or vertical image for your post, it doesn't matter at all.
Beautiful Dropcap: All first letters are big bold. You can turn off this option for your need or use a shortcode to insert in anywhere.
Social Share icons: All posts are integrated share icons including facebook, twitter, pinterest, linkedin, reddit, whatsapp, email.
Intelligent related posts system: Related posts are shown right after each post on the blog that helps your readers have more appropriate content to choose and it increases the time that readers stay on your site.
Sticky navigation: When you scrolls, the navigation stays at top to help your readers easier to navigate through your site.
Mega Menu: Enabling mega menu is simple by checking to menu item in back end. Mega menu not only allows you to organize menu items into columns but also enable preview thumbnals for category posts.
Social icons: Nearly 40 social icons integrated into the theme so it covers all services you wanna show.
Conctact form 7 integrated and you can setup a contact form with 2-column layout.
SEO friendly: Fox designed by HTML5 & CSS3 Standards with carefully calculated tag & heading.
Well Documented: Documentation includes tips for you to choose font and use this theme easily
Dedicated Support & Lifetime Upgrade: Once purchased the item, you'll get free update lifetime.
Support
In case you need support, please visit WiThemes Support Desk.
Credits
Images used on the demo site are all from Unsplash & Pixabay. Those images are not included in the download package but will be imported fully in Import Demo Option.
Change log
Version 3.1.1 – April 24, 2019
- Fix the issue featured image doesn't show up
Version 3.1 – April 22, 2019
- fix offcanvas menu customizer
- option for time fashion
- fix One Click Import Demo issue when plugin installed
- fix woocommerce shop row issue on Safari
- fix page search exclude problem
- option to hide featured image each post
- fix hero image for border case
- half-width photo on tablet screen
- fix carousel white space end carousel
- add link post format
Version 3.0 – March 23, 2019
- FEATURE ADDED: New Fox Times Demo
- FEATURE ADDED: WordPress 5.x Guttenberg Compatible
- FEATURE ADDED: One Click Import Demo
- FEATURE ADDED: allow to move main stream to between sections
- FEATURE ADDED: Post group for homepage builder
- FEATURE ADDED: Vertical post for the homepage builder
- FEATURE ADDED: Hero image on single post
- FEATURE ADDED: allow more than 10 sections
- FEATURE ADDED: add human difference time option
- FEATURE ADDED: allows to choose related posts source from Jetpack
- FEATURE ADDED: allows to use COOL page
- FEATURE ADDED: enable featured image on pages
- FEATURE ADDED: improve child theme structure for better adaption
- IMPROVMENT: heading / accent color options
- IMPROVMENT: Option for thumbnail fullwidth / big
- IMPROVMENT: set default border option is no border
- IMPROVMENT: change default column setting to one columns
- IMPROVMENT: open colorbox for gallery block & image block
- IMPROVMENT: many minor styles both on desktop & mobile
- IMPROVMENT: rewrite many template functions for reuse
Version 2.9.1 – November 20, 2018
- FIX: facebook icon issue
- FIX: single post sidebar issue
Version 2.9 – November 13, 2018
- FEATURE ADDED: infinite scroll for single post (autoload next post)
- FEATURE ADDED: customize options for share icons
- FEATURE ADDED: improve review section by adding summary text + buttons
- FEATURE ADDED: more dropcap styles + dropcap shortcode
- FEATURE ADDED: rewrite the code for better use/performance
- FEATURE ADDED: option to remove border
- FEATURE ADDED: more header layouts (inline/stack)
- FEATURE ADDED: choose related posts source from jetpack
- FEATURE ADDED: improve mega menu post items
- FEATURE ADDED: Support custom post type
- FEATURE ADDED: Add "lightbox" link class to open lightbox
- FEATURE ADDED: Add link border bottom for content link
- FEATURE ADDED: Improve blockquote style
- FEATURE ADDED: Option to remove category label from categories
- FEATURE ADDED: Implement off canvas mobile menu for theme
- FIX: fix mega menu on mobile
- FIX: video caption below video
- FIX: improve mobile view
- FIX: update language files
Version 2.8.0.2 – June 21, 2017
- fix thumbnail issue for newspaper layout
- fix translating issue in + category
Version 2.8 – May 21, 2017
- create many template tag functions for components & developers
- add standard schema.org for theme
- ajax mega menu to load newest posts
- sidebar option for each individual post/page
- make review section more visualized
- sidebar option for each tag, category
- add linked in share button
- add more option to display post list widget
- add option date for best rated widget
- add pinterest widget
- fix masonry loading issue Chrome
- add option to display view count
- add instagram as native widget
- add author list widget
- compatible with latest WooCommerce 3.3.5
- compatible with WordPress 4.9.6
- allow add html tags to copyright text
- update language file
- caption below thumbnail for credits
- option to disable sticky header
Version 2.7.1 – May 22, 2017
- Update: track week counter for posts
- Update: all hard coded http:// to https:// to support SSL
Version 2.7 – April 19, 2017
- Add heading text for main stream
- Add ad between articles of main stream
- WooCommerce 3.0 ready
- Optimize for speed. 100/100 Pingdom Score Achievement.
Version 2.6 – March 20, 2017
- Fix Pinterest button for https sites
- Fix "View all" text homepage builder
- Add offset option for query of each section
- Recommend "Mailchimp Plugin for WP" 
- Support "Custom Post Type" for each section
- Remove support touch icons due to core support
- Update PDF Documentation
Version 2.5.1 – February 22, 2017
- Fix twitter share issue with special characters in title
- Update Documentation
Version 2.5 – February 12, 2017
- Allows to display video/gallery/audio post format in homepage builder
- Ad Code (Adsense or custom code) and Image Banner between sections on homepage builder
- Ad Code (Adsense or custom code) and Image Banner between sections before and after content on single posts
- Add "Sidedock at footer" feature to single posts (go to any post to see difference)
- Fix the issue with offset + custom homepage post number
- Fix gallery format icon issue
Version 2.4.1 – December 27, 2016
- Fix: Review always showup issue
Version 2.4 – December 26, 2016
- WP 4.7 Compatible
- WooCommerce Support
- Review System
- Update Font Awesome to 4.7
- Use SASS for CSS
- Combine all JS files into one for better loading
- Link Post Format
- Footer Menu
- Mailchimp Plugin Support
- Fix: Remove metakey from counter plugin element
Version 2.3 – June 07, 2016
- Add option to exclude categories from main blog posts
- Add offset option for main blog
- Include Vafpress post format UI into theme core
- Full option to select both single-column and two-column for both posts and pages
- Improve site loading time by depricating old related posts algorithm
- Loads Google Fonts better
- Update Font Awesome 4.6.3
Version 2.2 – April 04, 2016
- Slogan align center
- Mega Menu
- Update Font Awesome System
- Fix Footer Social Line-height
- Header area to add advertisement
- Option to select single-column or two-column layout of each post
- Option to set a custom number of posts to show on homepage
- Set slider autoplays by default (if you wish to modify, open js/main.js file)
- Translate Prev/Next words for slider
- Sticky Sidebar
- New xx_XX.pot file for translating
Version 2.1.3 – February 01, 2016
- Fix __construct error
- Improve WordPress Query performance to make site load faster
Version 2.1.2 – September 09, 2015
- FixT_PAAMAYIM_NEKUDOTAYIM issue concerning TGM Activation. Update TGM Activation to v2.5.2
Version 2.1.1 – May 22, 2015
- FEATURE ADDED: Display tags on single post
Version 2.1 – May 06, 2015
- FEATURE ADDED: Add menu item third dropdown
- FEATURE ADDED: Add search button to header
- FEATURE ADDED: Add option for container width
- FEATURE ADDED: WordPress Gallery
- IMPROVED & FIXED: Fix Retina issue
Version 2.0 – May 01, 2015
- FEATURE ADDED: Homepage Builder with 10 predefined sections
- FEATURE ADDED: Top Slider Option
- FEATURE ADDED: "Newspaper" layout
- FEATURE ADDED: Grid and Masonry with option 2, 3, 4 columns
- FEATURE ADDED: Post view and most-viewed widget
- FEATURE ADDED: Page that lists all of featured posts
- FEATURE ADDED: Menu icon option to menu
- FEATURE ADDED: Submenu indicator for menu items
- FEATURE ADDED: Option dark/light submenu
- FEATURE ADDED: Animation for elements
- FEATURE ADDED: Widget title background color & active menu item background color
- FEATURE ADDED: Option for not display featured image on single post/blog post
- FEATURE ADDED: Option for display content/excerpt on the main blog
- FEATURE ADDED: Loading for Masonry style, Newspaper style
- FEATURE ADDED: Readmore button for grid/masonry/list layout
- FEATURE ADDED: Format sign for gallery, audio, video posts
- FEATURE ADDED: Documentation for version 2.0

- IMPROVED & FIXED: Minor CSS issues
- IMPROVED & FIXED: General Code Quality
- IMPROVED & FIXED: Responsiveness and Responsive CSS file
- IMPROVED & FIXED: Table of contents CSS file for Child Theme Developer
- IMPROVED & FIXED: Change hand-drawn lines to modern lines to make theme look more modern but keep hand-drawn lines as an option
- IMPROVED & FIXED: Layout option & Sidebar Option completely to make it easier to control and extend the theme
- IMPROVED & FIXED: Posts thumbnail to square for a better display and site loading time
- IMPROVED & FIXED: Default primary color
- IMPROVED & FIXED: Lines from Grind & Masonry layout
- IMPROVED & FIXED: Thumbnail display on related posts or same-category posts
- IMPROVED & FIXED: Redundant files (such as demo.php, thumbnail-grid.php...)
- IMPROVED & FIXED: Masonry Performance
- IMPROVED & FIXED: Change from Sticky post & latest highlights to Homepage Builder which is more powerful and customizable
- IMPROVED & FIXED: Aesthetic aspect of the theme
- IMPROVED & FIXED: Remove Retina HTTP Requests
- IMPROVED & FIXED: Vimeo social icon
Version 1.0 – April 25, 2015
- Initial Release