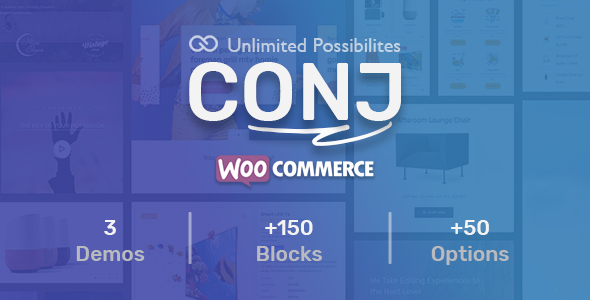 Whether you are a small business or a large enterprise, having a high-performing theme ensures your website loads quickly, helps customers engage with your brand and, most importantly, improves your site conversions.
Meet Conj – eCommerce WordPress Theme a super-fast, super-lightweight and super-stylish theme with impressive usability, both on the front and back end.
Easily customizable with a mobile-first and grid-based architecture, Conj is the ideal theme for creating an eye-catching webshop or a company website that will stand out from the crowd in 2019 and beyond.
✔ Conj is fully compatible with Gutenberg
Gutenberg is one of the biggest updates to WordPress since its launch 2002 and Conj has been developed to work perfectly with the new content editor.
You can build your new site quickly and organize your content ridiculously easily using our built-in Gutenberg blocks.
More flexibility for creating more complex content and layouts.
Every detail, big or small, is yours to customize!
A truly visual editing experience – WYSIWYG
✔ Conj is deeply integrated with WooCommerce
WooCommerce is a highly customizable and totally dependable e-commerce plugin that powers more than 40 percent of all online stores. We've created Conj to be fully WooCommerce compatible, right out of the box.
Bulletproof against any conflicts during major core or plugin updates.
Products render beautifully on any device – phones, tablets or desktop monitors.
Choose from different customizations for a wide choice of design possibilities.
✔ Conj is GDPR compliant
The EU's General Data Protection Regulation (GDPR) law introduced completely new standards for personal data protection. Conj has options that will help you comply with the GDPR, including compliant consent checkboxes, and we don't collect your data either.
GDPR consent checkboxes.
Cookie-related disclosure options.
Option to opt out of using Google Web Fonts.
✔ Conj has a solid foundation
Our theme is built on Underscores – a starter theme created by the actual developers of WordPress – to provide a solid foundation of code that adheres to the latest WordPress code quality standards. We've steered clear of a clunky additional theme options panel, instead delivering a powerful Customizer API.
Preview all changes without switching windows or refreshing the browser.
Make your updates go live or schedule them to be released at a later time.
Speedy setup and installation process.
Modify any component within the child theme.
✔ SEO friendly
Conj is a highly customizable, search engine friendly WordPress theme.
Responsive design.
Optimized for speed.
Uses Google Fonts for improved typeface readability.
✔ Conj offers Google Analytics integration
Conj gives you the option of easily adding a Google Analytics tracking code to show how much traffic your website receives, where that traffic is coming from and how visitors are interacting with your site once they arrive.
Enhanced eCommerce tracking.
Up-to-date stats in one place.
Simple steps to install.
✔ Conj meets WordPress quality standards
We are proud to display an Envato WP Requirements Compliant Badge – awarded to authors that meet Envato's requirements for quality of standards in WordPress themes. Meeting requirements confirm that:
Conj has been tested to ensure all necessary components are styled properly.
Conj does not transmit any data to a third-party server.
Conj does not advertise or up-sell premium services.
✔ Conj offers a helping hand
We offer in-depth support and design integration, so you can build the website you want and have it look the way you want it to look.
6 months technical support.
Full documentation.
Free monthly updates crammed full of new features and blocks.
✔ Free companion plugin
We have developed a companion plugin – the Conj PowerPack – packed full of additional features and bundled with the theme for free.
Import whole demo content.
Import pre-made templates directly from the block editor.
Theme has zero dependencies to third-party plugins.
✔ Built-in WooCommerce brands taxonomy
eCommerce stores often categorize their products by brands to represent a guarantee for quality and define a set of expectations, stories, relationships, and memories, in an account for a customer to decide and purchase a product over another.
Sadly WooCommerce doesn't offer a feature in particular to serve this need, and a brand can't be considered either as a tag nor a category.
For this reason, Conj comes with a built-in solution to help you create unlimited brands for your shop and enable you to classify your products by their brands.
Full-featured Gutenberg editor block.
Hierarchically manage brands.
Customized REST API end-point.
Integrated with WooCommerce search.
WooCommerce coupon support.
WooCommerce CSV import and export support.
Brand archive slug is customizable.
Filter products by using a dedicated layered nav widget.
To each product, one or more brand is assigned.
To each brand, a name, description, and thumbnail can be associated.
✔ Built-in WooCommerce Store Vacation
It might be difficult for a store owner to find a time and take a vacation, but when they do they need a plan for their online store.
Conj theme features an option which allows you to schedule unlimited vacation dates and put your shop on pause or hold mode for a certain amount of time.
This feature would be helpful in case:
You are traveling or ill.
You are temporarily unable to run your shop.
You need a quick break to catch up on current orders.
✔ Built-in WooCommerce Attribute Swatches
By default attributes of a variable product are shown within dropdowns and transforming these fields into labels, images, or color swatches would make your product page more eye-catching as your customers can preview what exactly they're purchasing when they click on a variation.
Assign swatches globally or per-product.
Supports out-of-stock or unavailable products.
Display tooltip when hovering over each swatch.
Create a swatch group and categorize sub-swatches.
Shape and dimensions of swatches are customizable.
Display swatches within the product archive pages.
Integrated with built-in product quick view feature.
Integrated with WooCommerce Layered Nav widget.
Within each product, override swatches type and values.
Conj theme's built-in attribute swatches gives you a variety of swatch types:
Color swatches — Display product's color options in one place.
Image swatches — Display a preview of each variation's actual appearance.
Text swatches — Display product attributes as clickable text-based options.
✔ Built-in WooCommerce enquiry form
As shoppers browse through your online store, they may find themselves with a few or more product-specific questions that may not be clear through the images or description and in case these very users don't make an effort to find the contact section of your webshop, you may be losing out on potential sales.
Having product enquiry form enabled on your shop will allow you easily manage and filter questions which are related to making sales.
Receives emails instantly and respond directly.
Full link to the enquired item will be sent via email.
Built-in form field validation methods to avoid spam.
Google reCAPTCHA integrated and protected.
Prepend any content to be displayed before the form.
Disable the visibility of the form per product basis.
Overwrite form notice content per product basis.
Key features
| | |
| --- | --- |
| Flexible CSS grid | Header search field |
| Demo content install | Sticky header |
| Pre-made template import | Custom releated products |
| Demo files included | Fluid template |
| Schema markup | Layout alignment |
| Color scheme | Credits removal |
| Google web fonts | Footer background image |
| Based on Underscores | Aside post format |
| Footer bar | Image post format |
| Google Maps API | Video post format |
| Google Analytics integration | Quote post format |
| Contact info widget | Gallery post format |
| Instagram feed widget                               | Audio post format |
| Social network icons widget | Link post format |
| Promo box (image ads) widget | Status post format |
| Affiliate product support | Chat post format |
| Hero product | Gutenberg built-in blocks |
| Product share buttons | Unlimited header layout |
| Product pagination | Customized REST API endpoints |
| Checkout layout | Tight WooCommerce integration |
| Two-step checkout | JetPack integration |
| Distraction free checkout | JetPack infinite scroll support |
| Sticky order review | MailChimp newsletter integration |
| Featured reviews | Site verification tools |
| Sticky add to cart | WPML compatible |
| Cookie consent notice | Child theme ready |
| Mega Menu | Translation ready |
| Product details customizer | SEO optimized |
| Product quick view | Page title toggle |
| Product attribute swatches | Page breadcrumbs toggle |
| Product brands taxonomy      | Site header toggle |
| Product featured video | Site footer toggle |
| Push Menu | RTL language support |
| Handheld Menu | HiDPI / Retina ready |
| Social network menu | Well documented |
| Header media | Premium support |
| Header customizer | Continuous free updates |
Gutenberg blocks
Disclaimer
Due to copyright restrictions, all images downloaded via demo import are watermarked and their quality reduced on purpose.
Latest Changelog

= 1.3.7 =

* Fix: Comment awaiting moderation notice style.
* Fix: Added missing font-family in textarea and select tags.
* Fix: Add missing fallback font-family to paragraph and button tags.
* Fix Sort `Shop by Category` editor block items by `menu_order` instead of title.
* Fix Sort `Brands` editor block items by `menu_order` instead of title.
* Fix: Proper value escaping for REST API callback methods.
* Fix: Transpiled public-facing JS file with `babel-loader` to support IE 11 (Internet Explorer) browser.
* Fix: Make sure the `Whatsapp` share button works well in all browsers, including Firefox on desktop.
* Fix: Adjustment in select tags arrow position.
* Fix: Remove top spacing from blocks with either left or right alignment.
* Fix: Align wide and full positioning in the post editor.
* Fix: Filling the space in the last column of 3x footer widget.
* Fix: Adjust widget title border position in the footer.
* Fix: Spacing adjustment in posts with no category and/or meta.
* Fix: Remove minimum width from product list layout.
* Fix: Multiple code standards improvements.
* Fix: Remove post meta separator when meta is either empty or removed from the view.
* Fix: Added background color to `core/code` Gutenberg editor block.
* Fix: Prevent multiple click events firing while adding a product to cart.
* Fix: Added extra spacing to off-canvas content when admin-bar is present.
* Fix: Position adjustment of the quote icons in `core/quote` Gutenberg editor block.
* Fix: Prevent site header from overlapping in two-steps checkout layout.
* Fix: Prevent any default action or event from being triggered if widget content is collapsed.
* Fix: Apply correct font-weight style on user change in the `Fancy Heading` Gutenberg editor block.
* Fix: Re-append quantity increment buttons once cart total amount refreshed.
* Fix: Add style to `kbd` keyboard tag.
* Fix: Notice styling in the payment section of the checkout.
* Fix: Fix several typos in the theme customizer controls.
* Fix: Improved semantic HTML for pages and single posts.
* Feature: Support for typing `LTR` or `left-to-right` direction in `Fancy Heading`, `Click to Tweet` and `Alert` Gutenberg editor blocks.
* Feature: Support for inserting an inline small tag in the `Fancy Heading` Gutenberg editor block.
* Feature: Support for inserting an inline subscript in the `Fancy Heading` Gutenberg editor block.
* Feature: Support for inserting an inline superscript in the `Fancy Heading` Gutenberg editor block.
* Feature: Gutenberg editor `Pricing Table` block.
* Feature: 14 new pre-made `Pricing Table` template blocks.
* Feature: Gutenberg editor `Spacer` block.
* Feature: In-page animated smooth scroll to an ID, e.g. `#!download`
* Feature: Support changing product price color in the `Add to Cart` Gutenberg editor block. 
* Feature: Ability to make the `Add to Cart` Gutenberg editor block full-width or block-level. 
* Feature: Support for inner block appender introduced in Gutenberg 5.8.
* Feature: Support applying background-color in the `Fancy Heading` Gutenberg editor block.
* Feature: Add color (text and background) to individual text within the `Fancy Heading` Gutenberg editor block.
* Feature: Toggle default text spacing in the `core/paragraph` Gutenberg editor block.
* Feature: Built-in WooCommerce product enquiry Ajax form with email validator and spam protection.
* Feature: Integration with Google reCAPTCHA version 2.
* Feature: Added RTL edit support for mega-menu and header customizer `gridstack` interface.
* Update: Plugin settings page styling.
* Update: Gutenberg editor styles.
* Update: Classic editor styles.
* Update: Language file.
* Tweak: Spacing around the Emojis.
* Tweak: Site header style.
* Tweak: Store notice `z-index` value to prevent overlap with the handheld footer bar.
* Tweak: Display scrollbar when the original length of the mini cart surpasses the maximum height. 
* Tweak: Order review column spacing in the checkout page with sidebar enabled.
* Tweak: WooCommerce `Apply coupon` button style.
* Tweak: Extended (core) WordPress post REST API field structure.
* Tweak: Styling in IE 11 (Internet Explorer) browser.
* Tweak: RTL (Right-to-left) language styling.
* Tweak: WooCommerce product pagination style.
* Tweak: WooCommerce product star rating style.
* Tweak: WooCommerce order tracking form style.
* Tweak: Product price alignment adjustment in the quick view window.
* Tweak: `core/columns` Gutenberg editor block style.
* Tweak: `core/cover` Gutenberg editor block style.
* Tweak: `core/gallery` Gutenberg editor block style.
* Tweak: `core/button` Gutenberg editor block style.
* Tweak: `core/list` Gutenberg editor block style.
* Tweak: Editor block insertion point style.
* Tweak: Widget content collapse toggle method.
* Tweak: Increase gallery items spacing or gap to `12px`.
* Tweak: Date and icon picker editor component styles.
* Performance: Reuse the block editor in a context independent from the post editor without any dependency to the post object.
* Performance: Enqueue non-minified versions of styles and scripts when `SCRIPT_DEBUG` is defined.
* Performance: Refactored theme specific JS files to cache DOM nodes and elements.
* Performance: Move WooCommerce specific styles from site-wide to a conditional statement.
* Compatibility: JetPack 7.4
* Compatibility: WooCommerce Stripe gateway 4.2.0
* Compatibility: WordPress 5.2.1
* Compatibility: WooCommerce 3.6.4

Click here to view the full changelog in details.
LIVE PREVIEWBUY FOR $59